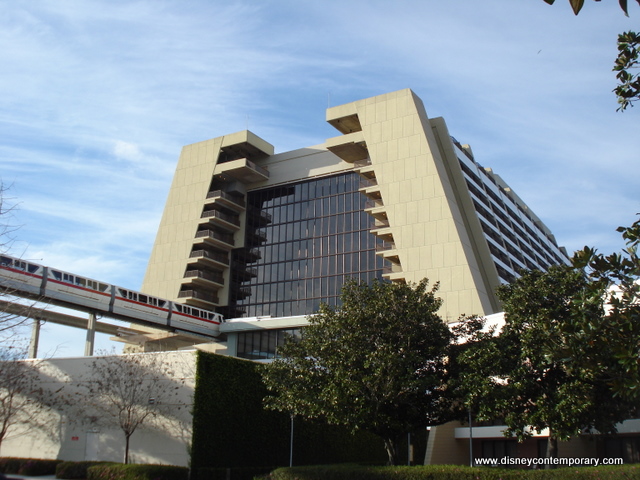 5. Seven Seas Lagoon and Bay Lake. With the Seven Seas Lagoon on one side, and Bay Lake on another, the Contemporary practically begs you to get out on the water. Sammy Duvall's Watersports offers boat rentals, waterskiing, tubing, wakeboarding and parasailing, or you can go fishing!
4. The History. It cannot be denied the iconic nature of the Contemporary Resort, one of the only resorts at Disney World with Walt's stamp on it. Opened the same time as the Magic Kingdom, the resort has stood the test of time while managing to stay ahead of the game with its offerings. So many memories have been made at the Contemporary — why not go make some more?
3. Top-Notch Dining. The Contemporary's restaurant offerings are among the most varied and very best on Disney World property. There's the Outer Rim Lounge, the Contemporary Grounds coffee bar, and the Sand Bar at the pool. Then there's the hard-to-book character buffet at Chef Mickey's and the counter service Contempo Cafe. Finally, there's the critically acclaimed Wave and California Grill restaurants, the latter of which boasts the best view of any Disney restaurant!
2. The Monorail! Not only are there only three Disney World resorts with monorail service, but only the Contemporary is the only resort that has the monorail travel directly through it! And with connecting service to Epcot via the Ticket and Transportation Center, it's as easy as walking to the lobby to get to two of four Disney World theme parks! And there's always the Seven Seas Lagoon Monorail Crawl…
1. Best Location. With spectacular views of Wishes and the Electric Water Pageant and just a short walk or monorail ride to the Magic Kingdom, it's obvious that the Contemporary Resort lies at the epicenter of action at Disney World. Being able to stay so close to so many of the best restaurants, resorts and Cinderella's Castle is truly a privilege, and it's why so many of us love the Contemporary Resort!
Do you love Disney's Contemporary Resort? Join fellow fans over on our facebook page and follow us on our twitter feed @DisneyHotelsFan!