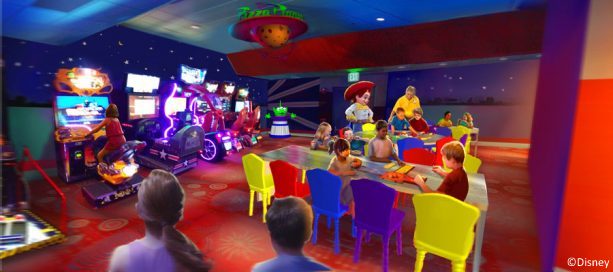 The new childcare option at Disney's Contemporary Resort – Pixar Play Zone – is now open.
Kids ages 4-12 can now have an evening full of interactive fun, arcade games and dinner.
This new pilot program takes place each night from 6-10:30 p.m. and, according to Disney, "will transport young guests to a world full of excitement and adventure with their favorite characters from Disney/Pixar films Toy Story and The Incredibles!"
Pixar Play Zone features different themed environments including The Living Room where Space Ranger Training takes place along with Woody's Roundup featuring Woody and Jessie. There is also Bonnie's Playroom and Radiator Springs Racetrack where kids can build their own race cars.
Each evening wraps up with Incredibles Super Dance Party featuring Mr. and Mrs. Incredible.
Reservations for the Pixar Play Zone can be made calling 407-824- KIDS (5437). The price is $65 plus tax per child. Reservations are strongly recommended.
Do you love Disney's Contemporary Resort? Subscribe to the monthly Disney Hotels Fan newsletter! Join fellow fans over on our Facebook page and follow us on our Twitter feed @DisneyHotelsFan!