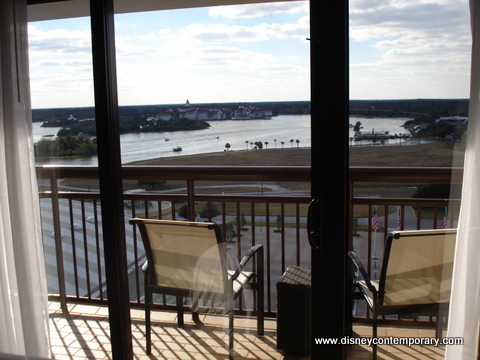 UPDATE: Check out this tool for determining which room numbers and areas of the Contemporary Resort you'd like to request!
The Contemporary Resort has 500 guest rooms in the 14-story Tower, and 250 guest rooms in the remaining Garden Wing. (Though there used to be two Garden Wings flanking the Contemporary Tower, the South Garden Wing was demolished in 2006/7 to make way for Bay Lake Towers.
ROOM TYPES, BY SECTION
Garden Wing: Standard View, Garden Wing King, Garden Wing Deluxe Room, Garden Wing 1 Bedroom Suite (max 7 people), Garden Wing Hospitality Suite (max 6 people).
Tower: Standard Room Bay Lake View, Standard Room Magic Kingdom View, Standard Room Atrium Club Level, Magic Kingdom View Atrium Club Level, Standard Room King—Tower Club, Standard Room Tower Club, 1-BR Suite—Bay Lake—Tower Club (sleeps 6), 1-BR Suite—MK View—Tower Club (sleeps 6), 2-BR Suite—MK—Tower Club (sleeps 10), 2-BR Suite—Bay Lake—Tower Club (sleeps 8), VP Suite—Bay Lake—Tower Club (sleeps 8), Presidential Suite—MK—Tower Club (sleeps 8).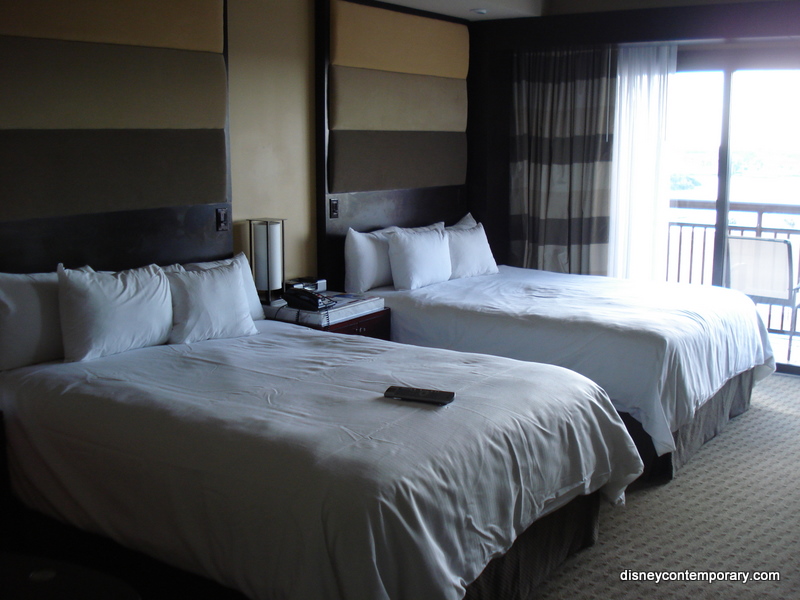 ROOM TYPES, BY COST
1. Standard:
Standard rooms, with 2 queen beds and a day bed or 1 king bed and a day bed, are the most prevalent at the Contemporary. These offer about 400 sq. ft. of living space.
2. Deluxe:
Deluxe rooms can be found in the Garden Wing only.
3. Suites:
The Contemporary has suites in both the Tower and the Garden Wing sections of the resorts. The Garden Wing offers one-bedroom and hospitality suites. The Tower offers one- and two-bedroom suites as well as the VP and Presidential suites. As is customary at Disney resorts, better view and more room equals more money! Most suites sleep 6; 2-bedroom suites can sleep 8, 9, or 10 depending on the room (see room types above for specific numbers).
4. Concierge-Level:
The Concierge Level Floors are on levels 12 (Atrium Club Concierge) and 14 (Tower Club Concierge) of the Contemporary Tower section. Only standard rooms can be found on the 12th floor. Tthese are exactly the same as the standard rooms on lower floors, but have larger balconies and access to the concierge services and amenities. Floor 14 has both standard rooms and all Tower Suites.

Guests on both floors have identical access to concierge services prior to and during their stay, complimentary food items, and concierge lounges. Concierge level amenities also include turndown service.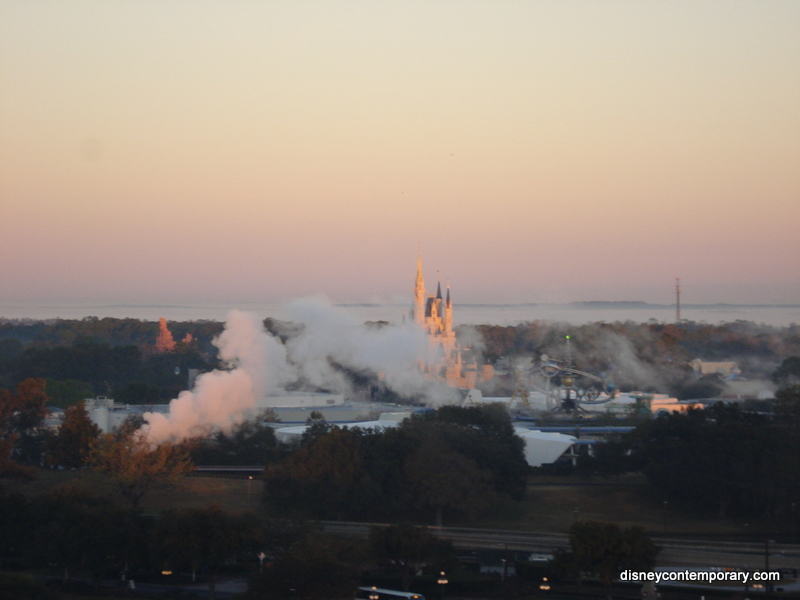 ROOM PREFERENCE
Tower vs. Garden Wing
Because most of the hotels amenities, restaurants, transportation options (including the Monorail), and shops reside in the Tower, rooms in the Tower are more desirable, and therefore more expensive. Tower rooms also promise a balcony. Garden Wing rooms require and outdoor walk to the Tower and its amenities and do not have balconies. While most guests would prefer staying in a Tower room, guests in Garden Wing rooms have better access to the pool, marina, and beach, and still have the same short walk to the Magic Kingdom!
Views
Guests in the Tower have views of either Bay Lake or the Magic Kingdom/Parking Lot/Seven Seas Lagoon. Guests in the Garden Wing have a water, garden, or parking lot view. As is true in so many Disney resorts, view is paramount at the Contemporary. Disney recently started charging a premium for rooms fronting the Magic Kingdom Theme Park.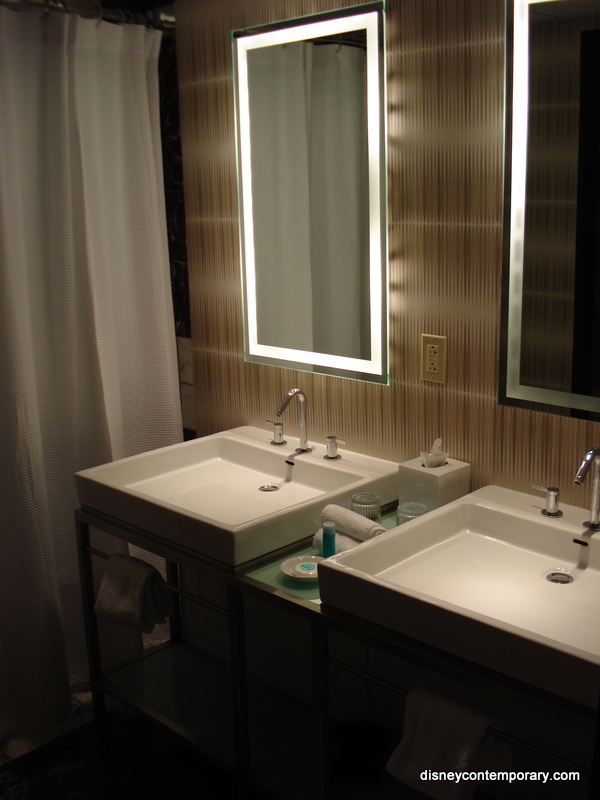 Room Amenities
All rooms include a refrigerator, a small safe for valuables, a coffee maker with complimentary coffee and tea, an ironing board and iron, and Wi-Fi access. Although the Contemporary used to outfit every room with a computer, this is no longer the case.
PRICING
Prices on Contemporary rooms in 2016 range from $400 to $3,545 per night (the highest rate is for a 2-bedroom suite in the Bay Lake Tower Club Level during the winter holidays). Room pricing is based on type of room (standard, suite, concierge), view (Magic Kingdom, Bay Lake, Garden, Parking Lot), and "season."
Pricing by season is Disney's way of saying, "when there's higher demand for the room, we'll make you pay more!" Disney has several seasons, but most of them fall into three categories: "value season," including the slowest times of the year (e.g. after Labor Day in September and after New Year's Day in January); "regular season," including months like May and October, during which Disney still sees good traffic, but the theme parks are not maxed out; and "peak season," including most school holidays such as spring break, summer, and the holiday season. Disney is busiest during Christmas!
For more information on pricing, including seasonal rates and in-depth room descriptions, visit DisneyWorld.com's Contemporary Resort Pricing Page.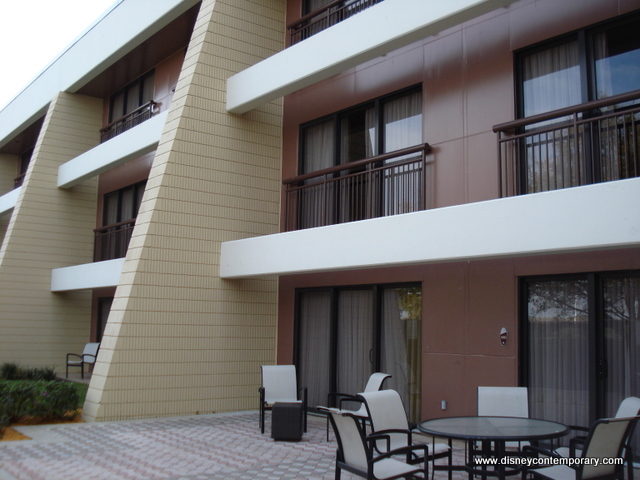 ROOM REQUESTS
All Disney resorts take room requests, such as adjoining rooms, rooms on certain floors, rooms in certain sections of the hotel, etc. The only guarantees you have on your room are the guarantees you pay extra for (king bed, certain views, suites, etc.). Make your requests when you first book your room, then call to confirm that your requests have been entered into your reservation information about 5 days prior to your arrival. Once you arrive, work with your front desk check-in Cast Member to get the best room available at your price point.