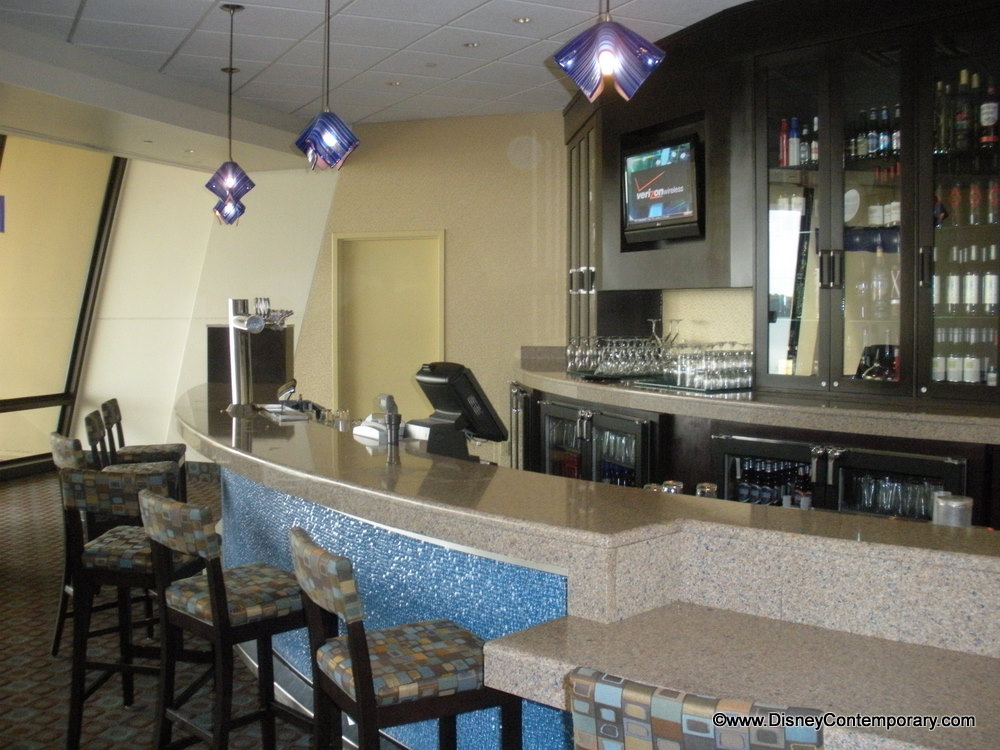 After a good day of touring the parks during a Walt Disney World vacation, it's nice to kick back in a comfortable chair and enjoy a cocktail. One of my favorite places to do this, is at the Outer Rim.
You can find the Outer Rim Lounge on the Grand Canyon Concourse level of the Contemporary Resort's main tower. With stylish and comfortable seating guests who stop by the Outer Rim can gaze out the windows onto Bay Lake and watch the boats zip by on the water as they sip cocktails from Disney's Standard Bar Menu. Small gatherings of chairs with ottomans create intimate areas to discuss the day and make plans for your next stop.
The bar itself is tucked in the back of the lounge and is decorates with posh blue tiles and dark wood. A half dozen tall posh stools line the bar and have a great view of the TV if you're looking for a spot to catch the big game. The bartenders are friendly and helpful, eager to serve.
The Outer Rim is conveniently located next to Chef Mickey's entrance, and the Contempo Cafe' if you're in the need for a nosh. We suggest getting a variety of cupcakes from Contempo and checking this off your cupcake crawl list.
Outer Rim begins serving at about 4PM and makes for a great meeting place for friends. Just steps away from the monorail and a broad variety of dining options. Be sure to stop by on your next Orlando vacation and take a break from the hustle and bustle.