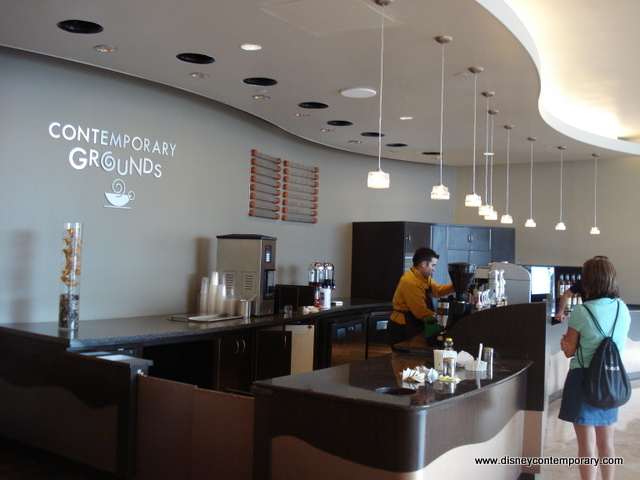 If your plan for the day includes arriving at one of Walt Disney World's theme park by rope drop, you might want to consider adding some caffeine to your morning routine. One of our favorite places to grab a cup of java is at Contemporary Grounds at Disney's Contemporary Resort.
This coffee shop is your one-stop shop when you need a cup of Joffrey's coffee in the morning (or afternoon) and maybe a sweet pastry to nosh on while you prepare for your day at the parks. It's a quick and easy detour as you get your morning moving.
Contemporary Grounds is located between the check-in desks and the convention center entrance – which also makes it a great location to grab a quick cup of coffee and a pastry before you head into the daylong meeting.
But there's more than just coffee and pastries at Contemporary Grounds! If you happen to be craving an ice cream sundae, you should stop by and try out their Dippin' Dots sundae! Our friends at the Disney Food Blog reported on this new treat option way back in January and it sounds delicious!
Guests can choose from several flavors of Dippin' Dots ice cream and then add toppings that include: mini M&Ms, sprinkles, mini Gummy Bears, Oreo Cookies, Butterfinger, Reese's Cups, and Heath Bar. The Dippin' Dots can be ordered as a small or regular size, and then the sundae has a regular size and a LOL (Lots of Layers) option.
Contemporary Grounds is also a great place to find seasonal coffee drinks throughout the year, including during the fall and winter holidays.
So whether you're doing a quick pre-park morning caffeine run or if you're hanging out on the very comfortable couches and snacking on a LOL Dippin' Dot Sundae, Contemporary Grounds is a great place to stop while you're staying at the Contemporary Resort.
What's your favorite item on the menu at Contemporary Grounds? Leave us a message and let us know!
Do you love Disney's Contemporary Resort? Join fellow fans over on our Facebook page and follow us on our Twitter feed @DisneyHotelsFan!