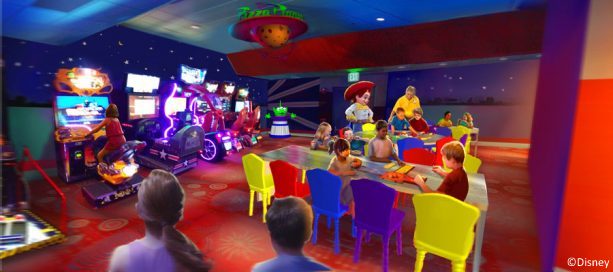 The new childcare option at the Contemporary – Pixar Play Zone – opens April 13 and reservations are now available.
This new kids-only experience (for kids ages 4-12) will include Pixar characters, themed play areas, a dance party, and more.
Kids can hang out in Bonnie's Play Room and play with toys, or learn how to be a Space Ranger or Cowboy in the Living Room, or build their own race car at the Radiator Springs Racetrack.
Dinner and dessert are included in the evening.
The Pixar Play Zone will be offered nightly with a 5 p.m. check-in starting April 13. Kids will be welcomed at the welcome desk, stop by the Monster's, Inc. handwashing station, and then pop in Boo's Closet to store any personal belongings. Pixar Play Zone programming will take place from 6:00 PM – 10:30 PM. The fee is $65 plus tax per child. Children must be fully toilet-trained to attend, and a parent must be physically present to check their children in and out of Pixar Play Zone.
Reservations are now open, and can be made by calling (407) 824-KIDS.
Do you love Disney's Contemporary Resort? Subscribe to the monthly Disney Hotels Fan newsletter! Join fellow fans over on our Facebook page and follow us on our Twitter feed @DisneyHotelsFan!