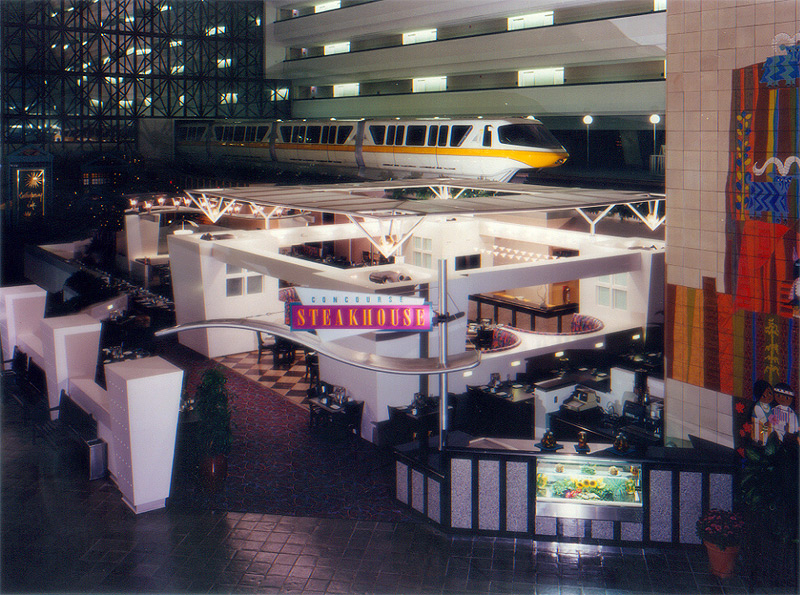 Today we're remembering a restaurant of the past at the Contemporary Resort. The Concourse Steakhouse opened on the Grand Canyon Concourse on August 10, 1994.
It had a great view of the monorail zipping by overhead, and while it was open, it was the only restaurant at the Contemporary that served breakfast, lunch and dinner.
Concourse Steakhouse enjoyed a heyday of about 14 years, closing on May 31, 2008 to make way for the counter service Contempo Cafe.
Another table service restaurant, The Wave, would open just a few days later in another location in June 2008.
Some reviews and photos of Concourse Steakhouse are still available 3 years after the steakhouse's closing. MousePlanet.com says it's an excellent choice for steak lovers. allears.net has a great review from blogger Jack Spence.
Did you enjoy the Concourse Steakhouse? Did you have a favorite menu item? Do you like the Contemporary's table service replacement, The Wave? Leave a comment below!
Do you love Disney's Contemporary Resort? Join fellow fans over on our facebook page and follow us on our twitter feed @DisneyHotelsFan!