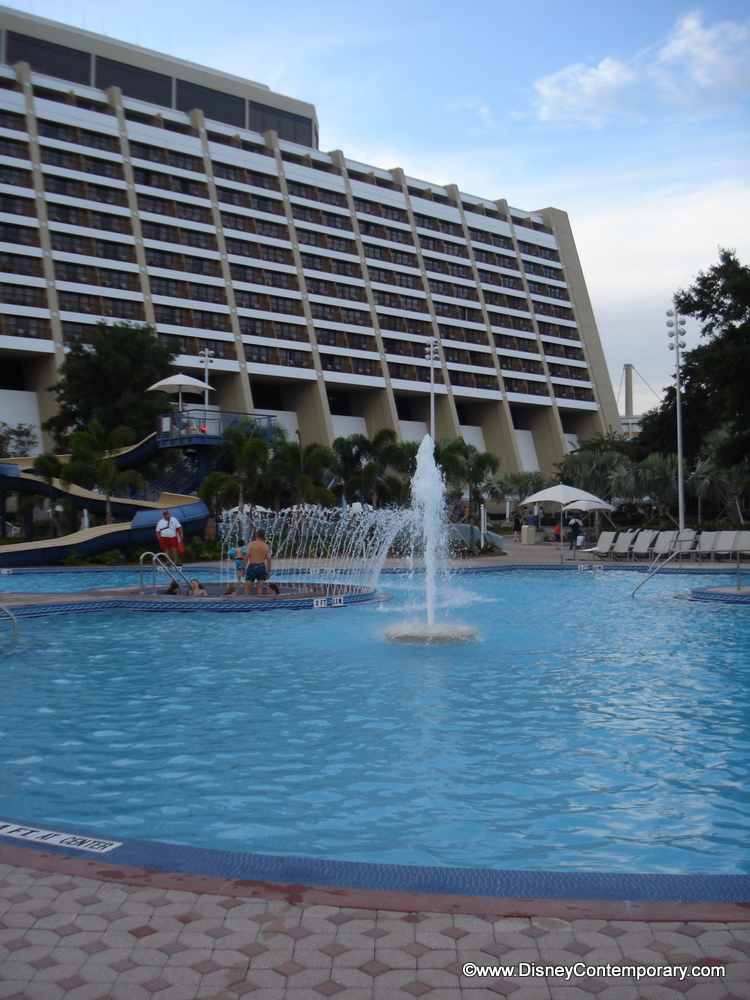 There are two pools at the Contemporary Resort and one pool at Bay Lake Tower.
The pools at the Contemporary are "understated." Themeing is all but non-existant, but this fits with the general clean-line elegance of the hotel.
The main Contemporary pool has a 17-foot curving slide, and has been recently refurbished (February 2009), and sits immediately next to the shores of Bay Lake. Folks in the Garden Wing of the resort have a very quick trip to this pool!
There are two hot tubs located in close proximity to this main pool.
The "bullseye" pool–a smaller pool next to the large main pool–is flanked by cabanas and a beautiful view of Bay Lake.
Cabanas can be reserved by resort guests for morning (10am-2pm, $100), afternoon (3pm-7pm, $100), or all day (10am-7pm, $185) sessions. Cabanas include complementary drinks (check your refrigerator!) and fruit basket, ample padded seating, IPod docking station, and a flat-screen TV. Massages (schedule in advance) and private dining can be requested–use the phone in your cabana to call for room service. There's a 24-hour cancellation window; guests will not be charged for same-day cancellation due to weather.
The Bay Cove Pool at Bay Lake Tower is open to DVC Members and their guests staying at Bay Lake Tower only. There is no pool hopping allowed to Bay Cove.