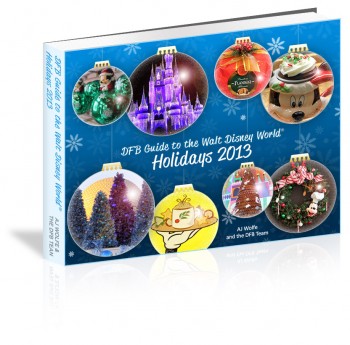 If you're planning a holiday trip to the Walt Disney World Resort, there's a book you need to add to your packing list! We're talking about the Disney Food Blog's 'DFB Guide to the Walt Disney World Holidays 2013' e-book!
This e-book is full of updated holiday tips and new information that you must know before visiting the parks in November, December, and January. Author AJ Wolfe gives readers detailed information on new events and holiday happenings, including all the news about the Contemporary's holiday happenings! You'll also find photos of the resort's famous gingerbread tree and the Mickey Mouse wreath that adorns the windows.
AJ also gives readers information on the holiday dining options at the Contemporary, including Christmas Day meals at the table service restaurants and the New Year's Day buffet at Chef Mickey's. You'll also get the inside scoop on yummy holiday treats like the Cool Mint Cupcake at the Contempo Café and the always popular gingerbread items!
Inside the holiday guide, readers will also find bonus items including themed holiday crawls, customized holiday touring strategies, suggestions for the best restaurants when you don't have a reservations, holiday activities and events for the kids, and an FAQ section.
For more information or to download the DFB Guide to the Walt Disney World Holidays 2013 head over to the DFB Store.
Are you planning a holiday stay at the Contemporary? Leave us a comment and let us know about your favorite holiday tradition at Disney!