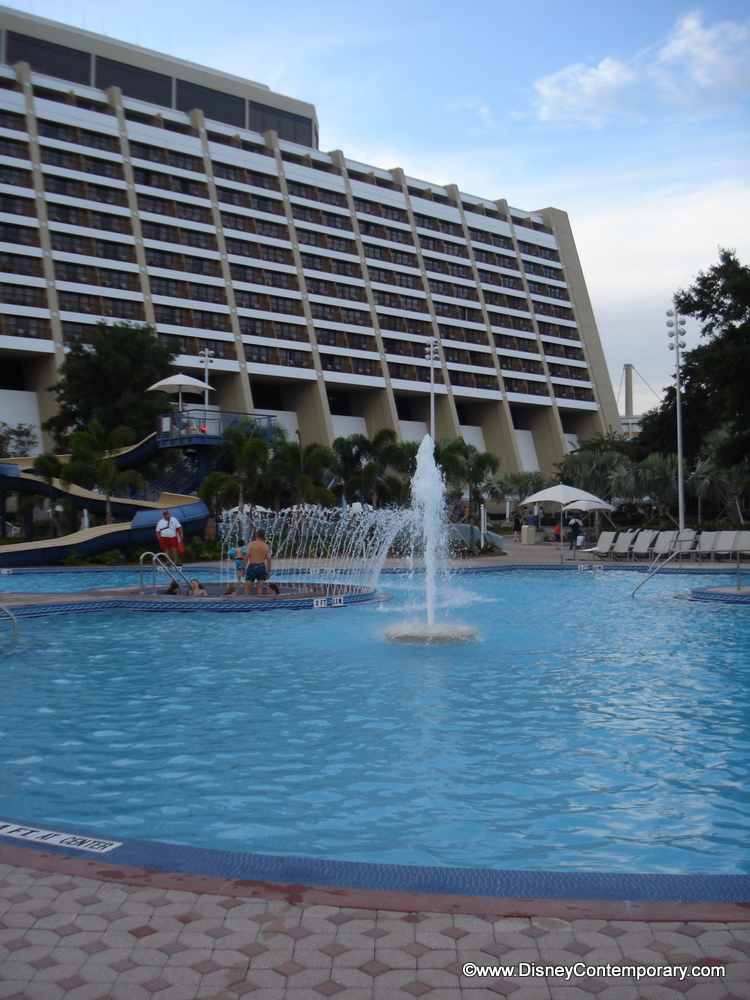 One of our favorite things to do during a Walt Disney World Resort vacation is to spend a day at our resort. There are so many wonderful things to experience, no matter where you're staying. And if you just happen to be staying at Disney's Contemporary Resort we have a list of a few of our favorite things to do on a "resort day."
5. First and foremost, you'll want to spend some time at the pool – especially if you're visiting in the summer! The resort has several pools to choose from including the Contemporary Resort Feature Pool, the Bay Lake Pool, and the Bay Cove Pool. If you're looking for the ultimate in relaxation, reserve a cabana at the Bay Lake Pool! But if you're looking for some fun don't forget that every day at the Feature Pool there's an afternoon of activities planned including relays, water games, Beach Ball Blast, and more. At 2 p.m. each day there's a Pool Party followed by a Dance Party at 3 p.m.
4. Send the kids to the arcade for a an hour or two of video games! The Game Station Arcade is located on the 4th floor next to the Fantasia Gift Shop. As with most arcades on property, the Game Station operates on the Arcade Card system and you must purchase points to play. This is a perfect activity for a rainy afternoon (when those pesky summertime storms roll in!).
3. If you're 21 or over and you happen to be relaxing at the resort on a Saturday, head up to The Wave for the complimentary Beer Tasting ! You'll have a chance to sample the organic beers on tap at The Wave. This only happens on Saturdays and space is limited so you'll want to call 7-1347 on your resort room phone to reserve your spot!
2. After a long day of relaxing, head down to the resort's beach area for the nightly campfire! It's a lovely way to wrap up your resort day. The campfire begins at 7 p.m. Check with the front desk for exact location.
1. And at the end of the campfire, head over to the courtyard behind Contemporary Tower for the nightly "movies under the stars." Each night at approximately 8:30 p.m. the resort shows a different Disney movie, outside under the stars! What a perfect way to end your day. Movies include "Monsters University," "Tangled," and "Frozen."
The best source of information on activities offered during your stay is the Activity Sheet that you'll receive at check in. You'll find the daily pool activity schedule, in addition to the movies under the stars and any special events.
What is your favorite way to spend a "resort day" at Disney Contemporary Resort? Leave us a comment and let us know!
Do you love Disney's Contemporary Resort? Join fellow fans over on our Facebook page and follow us on our Twitter feed @DisneyHotelsFan!