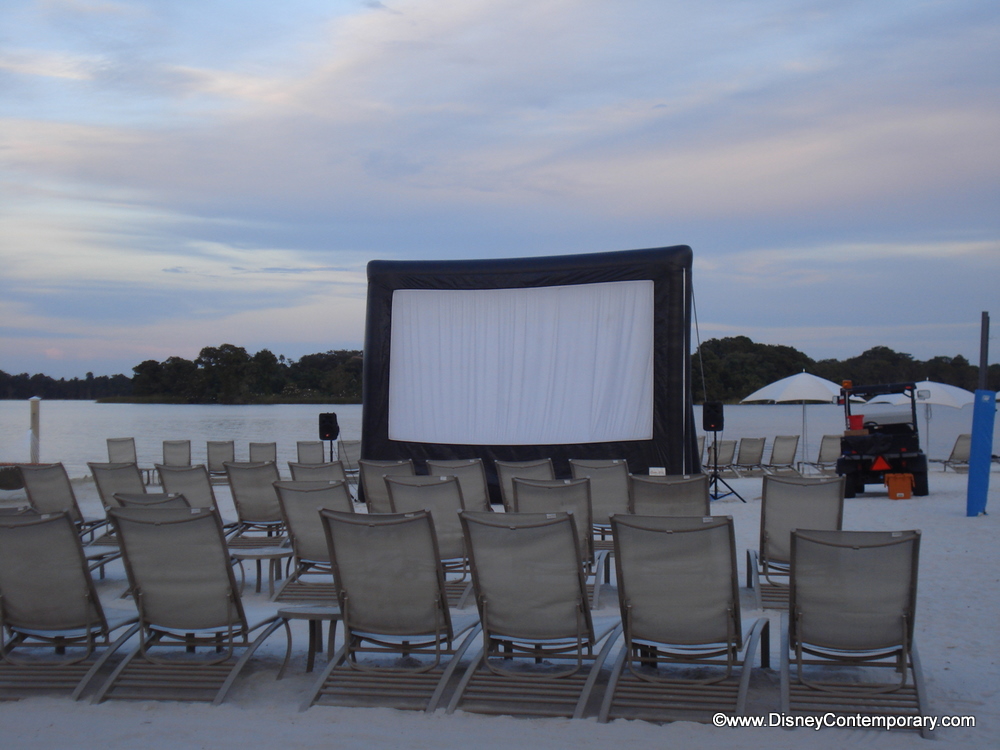 After a long (and hot) day touring the theme parks at the Walt Disney World Resort, sometimes you need a night to relax at your resort. And lucky for you, the Disney resorts have a great nightly entertainment option that is perfect for relaxing!
We're talking about the "Movie Under the Stars."
Each resort has its own movie schedule, and they usually change each month. But the concept is the same – each night at about 8:30 or 9 p.m. guests can watch a Disney movie (live action or animated) on a big screen, outside under the stars. Depending on your resort, this could take place on a beach or near the pool.
At Disney's Contemporary Resort the Movie Under the Stars currently takes place in the courtyard behind Contemporary Tower.
The movie schedule for May is as follows:
Sunday May 4 & 18: The Princess and the Frog
Sunday May 11 & 25: Brave
Monday May 5 & 19: Meet the Robinsons
Monday May 12 & 26: Bedtime Stories
Tuesday May 6 & 20: Wreck-It-Ralph
Tuesday May 13 & 27: Wall-E
Wednesday May 7 & 21: Frozen
Wednesday May 14 & 28: A Goofy Movie
Thursday May 1, 15, & 29: Guest Choice – Cinderella or Peter Pan
Thursday May 8 & 22: Guest Choice: Robin Hood or Alice in Wonderland
Friday May 2, 16, & 30: Monsters University
Saturday May 3, 17, & 31: Frozen
Saturday May 10 & 24: The Muppets
The movies in May start at 9 p.m., and don't forget about the campfire each night at 7:30 p.m.!
The movie selection changes each month so be sure to check the Activities Sheet you receive at check in. We also have the monthly activity sheets here on the blog in the "Maps and Printed Materials" gallery in the Resort Photos section.
Do you ever take part in the Movie Under the Stars at the Contemporary? Leave us a comment and let us know!
Do you love Disney's Contemporary Resort? Join fellow fans over on our Facebook page and follow us on our Twitter feed @DisneyHotelsFan!