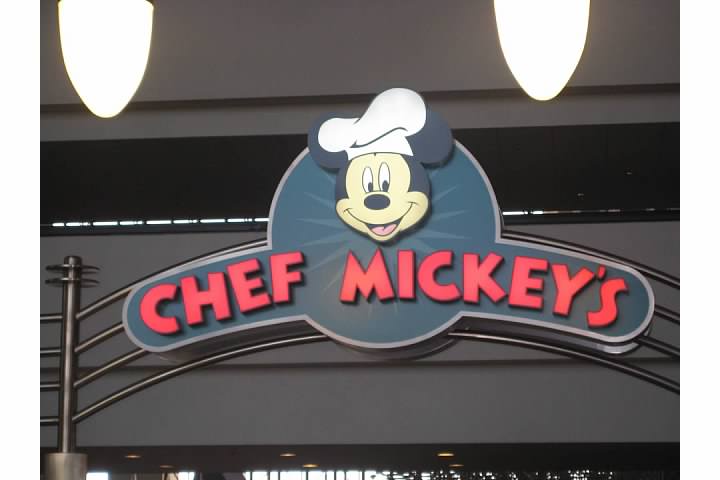 Whether you're a guest at Disney's Contemporary Resort or just passing through on the Monorail, you'll want to stop by Chef Mickey's for one of the most popular character breakfasts on property.
At Chef Mickey's you can (and should) make a reservation for breakfast or dinner. Since this is such a popular location, you really should make that ADR 180 days in advance, otherwise you might have some disappointed diners in your group.
While the food is good at Chef Mickey's it usually takes a back seat to the characters – after all, that's why guests like character meals. Here you'll have a chance to meet the Fab Five – Mickey Mouse, Minnie Mouse, Goofy, Pluto and Donald Duck. Each character is dressed in his or her cooking finest. The characters will make their way to each table during the meal, so grab a plate and wait patiently, with your autograph book and pen ready. And be sure to have your camera ready too.
You're probably wondering what kind of food Chef Mickey is serving at his famous buffet, right? Well, for breakfast you'll find Mickey Waffles (natch!), scrambled eggs, Pluto's cheese blintzes, Minnie's breakfast pizza, bacon, sausage, potatoes and so much more. There's also fresh fruit, yogurt, dry cereals and assorted breakfast pastries.
At dinner there's a carving station that normally features either beef or roast turkey. The rest of the buffet will likely feature other meat dishes, pastas, parmesan mashed potatoes and vegetables. There's also a kids buffet that features "kid friendly" items such as Pluto's chicken, Goofy's pizza, and Chef Mickey's Macaroni and Cheese.
While the characters and the food make Chef Mickey's special, it's also a lot of fun to watch the Monorail glide through the center of the Contemporary as you enjoy this fun and delicious meal! Be sure to save room for dessert!
Chef Mickey's is a great spot to grab a family meal before heading off to your day at the park! Have you eaten at Chef Mickey's yet? What's your favorite part?