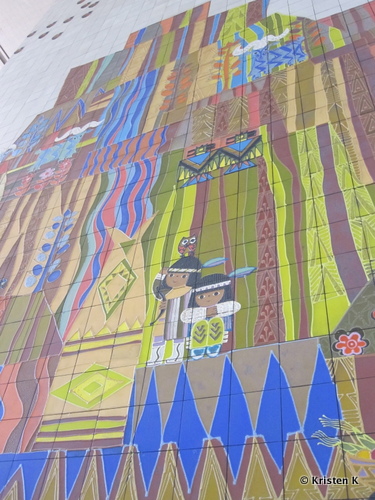 Of the many Orlando Resort hotels some people ask what makes Disney the resorts so special. To me, it's magical touches such as world-class art and design. One person, who brought cutting edge design into Walt's fantasy, was Disney Legend Mary Blair. Known best perhaps for her work on "It's a Small World" Mary introduced the Disney Company to Modern Art. Her influence can be seen in Disney Film, Attractions, and to our delight as the Centerpiece of the Grand Canyon Concourse at Disney's Contemporary Resort Hotel.
Since it's opening day, one of the most iconic works of art at the Contemporary has been the 90 foot high mural that graces the Grand Canyon Concourse. Featuring "stylized birds, animals, flowers, and American Indian children", this true piece of historic artwork is constructed from 1,800 hand-painted tiles 1 foot square tiles and stands 90 feet tall. The mural alone took 18 months to construct.
One of the most sought after images on the mural is the legendary five-legged goat. The goat symbolizes that nothing is perfect and though the Disney cast members should strive to create magic for everyone, that they are only human and sometimes make mistakes. The goat is a nod to the traditions of the indigenous children showcased on the mural, and just pretty dern cute
I hope you enjoy this Photo Blog of the Mural. Be sure to stop by next time you're visiting on your Disney Vacation and look for the five legged goat.