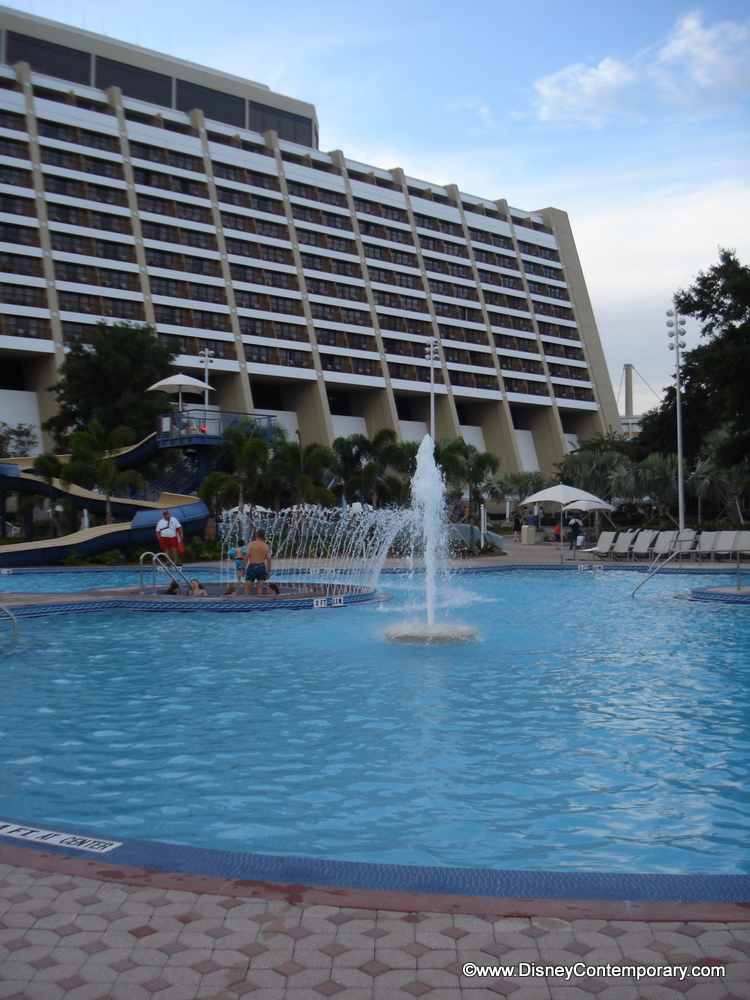 As much as we love Disney's Contemporary Resort we think it sometimes gets a bad rap for a lack of "themeing" – there aren't any savannas filled with animals and there aren't any larger-than-life colorful icons. It's a really great resort but the kids might not be too excited about it, except for the fact that the Monorail travels right through the middle – which IS pretty cool!
So, if you're staying at the Contemporary with the kids, it's good to have some ideas on how to keep them entertained when you aren't at the theme parks. And yes, the resort is just a short walk away from the Magic Kingdom but even the hardcore Disney fans need a break from the magic and the mayhem for a while.
One of our favorite "distractions" is to book a meal at Chef Mickey's. We like to book a dinner here after a long day at the parks. The food is good, it's a buffet so the kids don't have to "sit still" through the whole meal, and the Fab Five will visit your table! After dinner head back to the room to relax for a bit before the nightly Movies Under the Stars starts.
The kids love Movies Under the Stars – there's a different Disney film every night and it's in a fun spot (usually the pool deck or the beach) so once again the kids can have fun while watching a flick.
If you're spending some time just relaxing at the hotel in between park visits or if you're having a resort day we suggest booking a cabana at the pool. The kids will be able to swim all day and you'll have the luxury of a cabana with shade and ice cold beverages. You can book the cabanas for full or half days.
Maybe the kids want some adventure time? Then we suggest heading down to the marina and booking something fun at Sammy Duval's Watersports. Parasailing, boating, or fishing are all on the menu at the marina.
And if it's a rainy afternoon or you're all just overheated, head to the Game Station Arcade and let the kids play some video games. We also love grabbing a quick snack (maybe a cupcake?) and just watching the Monorail zoom overhead.
Whatever adventure you choose, there's no way the kids will be bored at Disney's Contemporary Resort.
Do you love Disney's Contemporary Resort? Subscribe to the monthly Disney Hotels Fan newsletter! Join fellow fans over on our Facebook page and follow us on our Twitter feed @DisneyHotelsFan!