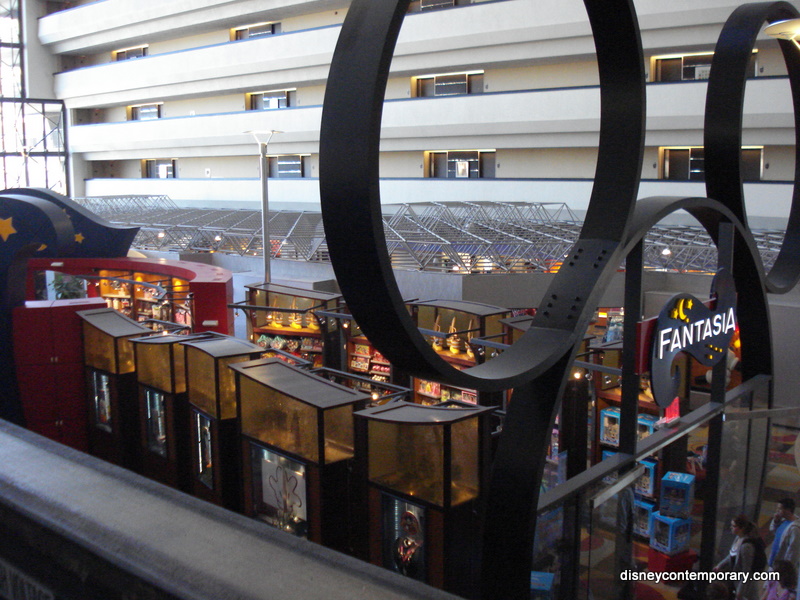 Are you a Hidden Mickey hunter? There a a lot of great Hidden Mickeys at the Contemporary Resort. Here's a few of our favorite Hidden Mickeys to hunt for at the Contemporary!
1. Mickey on the roof. No fiddler here — it's Mickey perched on the sixth-floor roof! It can also be spotted from the monorail.
2. Contempo Cafe mural. The Mary Blair-created mural inside the Contempo Cafe includes some hidden Mickeys on the dress of one of the smiling girls.
3. Pool bar flag Mickey. On the wallpaper border in the pool bar, only one of the people holding nautical flags is wearing a Mickey hat!
4. Mickey carpet. Cute hidden Mickeys can be found in the patterns of the carpet of the Game Station and in Concourse Sundries & Spirits.
5. Chef Mickey's. A large red, white and black tile wall bears a side-profile Mickey.
6. The Mickey watchband. While dining at California Grill, look out the window to check out the Mickey watchband on the grounds. How cute!
This is just scratching the surface of hidden Mickeys that can be found throughout the Contemporary Resort. Check out hiddenmickeys.org, hiddenmickeysguide.com and Steve Barrett's Hidden Mickey blog on allears.net for more Contemporary Hidden Mickeys!
Do you love Disney's Contemporary Resort? Join fellow fans over on our facebook page and follow us on our twitter feed @DisneyHotelsFan!