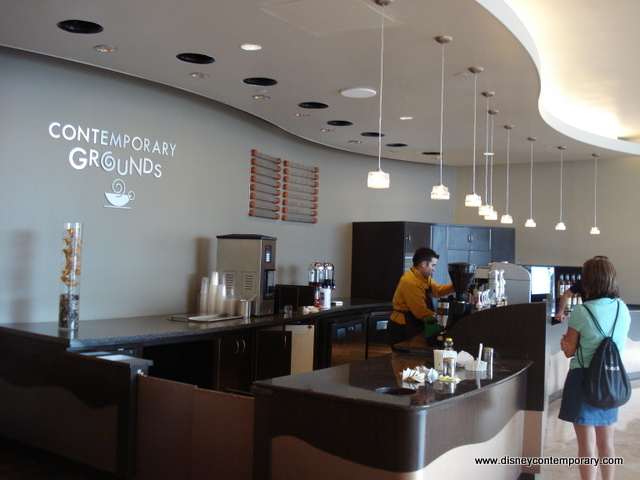 If you're anything like me, coffee is a must have to get your day moving, and Starbucks is a daily treat. Yet Walt Disney World is notorious for their less than stellar Nes'Cafe cup of joe. May times you'll find me packing my own beans and a press pot to use on my Disney Vacation. However in recent years and effort has been made to get better coffee into the hands of the truly addicted at the resort. Disney's Contemporary Resort is one such deluxe resort that offers a solution.
Contemporary Grounds is great little coffee bar is tucked between the check-in desks and the Contemporary's convention center entrance in the first floor lobby. Offering similar fare to that at the Main Street Bakery; it's the perfect spot to stop and grab your "pick me up" and a pastry, before heading off to the park or a day of meetings. The area is bright and welcoming with many comfy couches to relax on, close by you'll find a big screen TV and kid-sized lounge furniture.
The Contemporary Ground has counter service coffee and snacks. Their menu consists of espresso drinks, loose leaf teas, and hot chocolates; as well as iced coffees, teas, and smoothies. Drinks and pastries on the menu cost between $2.50 and $6.00.
Overall this great spot to grab a decent cup o' joe. However, can get a little noisy in the mornings and during conventions when the fast pace of attendees rushing off to their meetings crowds the lobby. If you plan your Disney Vacation around the best coffee options, Disney's Contemporary Resort should be on your list.
This post was part of the Disney Blog Carnival #36!
Stop by the Carnival and join all the fun!