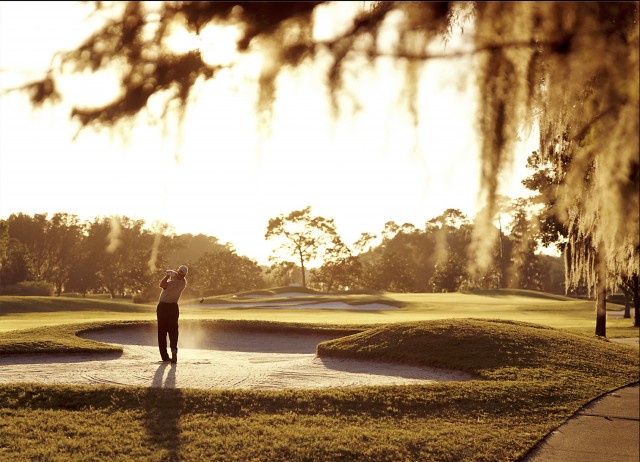 Have you been thinking of escaping with your buddies for a Golf Weekend? Why not head to Walt Disney World for a little extra magic in your game. Arnold Palmer Golf Management the Disney team are working to build on a Disney golf tradition that began with the vacation kingdom's opening in 1971. I know you're really dying to hit a ball into the Mickey shaped sand trap just so you can spend some time admiring the big guy.
The beautiful courses at Walt Disney World that are now lead by Arnold Palmer's vision include Disney's Palm and Magnolia Courses (both of which opened with the resort in 1971), Disney's Lake Buena Vista Course (near Disney's Saratoga Springs Resort & Spa), Disney's Osprey Ridge Course (scheduled to transition to Four Seasons Resort Orlando next summer as part of a new luxury resort slated to open by 2014) and Disney's Oak Trail Course (a nine-hole walking course). Not only are the courses brilliant on their own, but paying homage to Disney's conservation efforts, all five scenic courses are certified as Cooperative Wildlife Sanctuaries by Audubon International. That Mickey shaped sand trap, by the way, is on the Magnolia course.
Guests staying at Disney's Contemporary Resort get some extra benefits too! Okay, all WDW Resort Guests really get these benefits, but we're partial to staying at the Contemporary.
Preferred tee times
Disney hotel guests get preferred tee times for Disney's four championship golf courses – including two courses that are part of PGA TOUR tradition, having hosted professional events from the early 1970s to the present.
Transportation to "the tees"
Golfing guests at Disney owned-and-operated hotelshave complimentary door-to-door transportation between their resort and Walt Disney World golf facilities.
DVC Member Perks
Members staying at Bay Lake Tower also enjoy the benefits of membership. Save up to 35% off Resort Guest golf rates for Disney Vacation Club Members age 18 years and older on Disney's four championship 18-hole courses. The discounted rates will remain in place from the first tee time each morning and continuing all day until Twilight rates begin at either 2:00 p.m. or 3:00 p.m., depending on the time of year.
As usual, prices and benefits subject to change on Disney's whim. So what are you waiting for!? Grab three of your closest buds and tell your wife you're head down for a Golf Vacation at Disney World. When you say the other choice was Las Vegas… I'm sure she'll let you go.