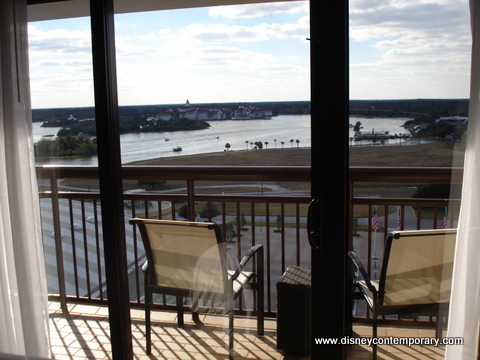 Here's a question that stumps even the most seasoned Disney World visitor: do you choose the tower room or the garden wing at Disney's Contemporary Resort? While we all enjoy luxury and convenience, we also have to think about our budgets — and it's not as though everything else in Disney World is cheap!
The Contemporary "Tower," is the main, A-frame building that houses the Contemporary's main amenities, restaurants, shops, and the monorail. To the right of the tower is the one remaining Garden Wing, which offers the same quality accommodations as the tower, and shares all of the resort's amenities. The Garden Wing lies about a 3-5 minute walk (along outdoor resort walkways) from the Contemporary Tower.
Here are some pros of both locations, which might help you make your decision:
Contemporary Tower Room
Amenities: The tower rooms are closer to all of the resort's amenities. Staying in the same building as the restaurants, shops, fitness center, and hair salon means that you'll never have to leave your "home base" to make use of them. If you have a craving for a Mickey bar at 10pm, you can get one…in your pajamas, if you wish! Need band-aids for those blisters? Just head downstairs to the shop and you're all set. Also, for you gamers, the arcade is here in the main building.
Lobby: Being in the same building as the lobby, front desk, and concierge services can be extremely useful when you have concerns about your room, need to navigate dining arrangements, or simply need to talk to someone face-to-face about a complaint.
Monorail: The monorail is located in the main tower building, so catching it is as simple as heading downstairs from your room.
Balconies: All tower rooms have balconies. While some garden wing rooms have patios on the ground floor, none actually have balconies.
Magic Kingdom views: Only tower rooms can offer Magic Kingdom views.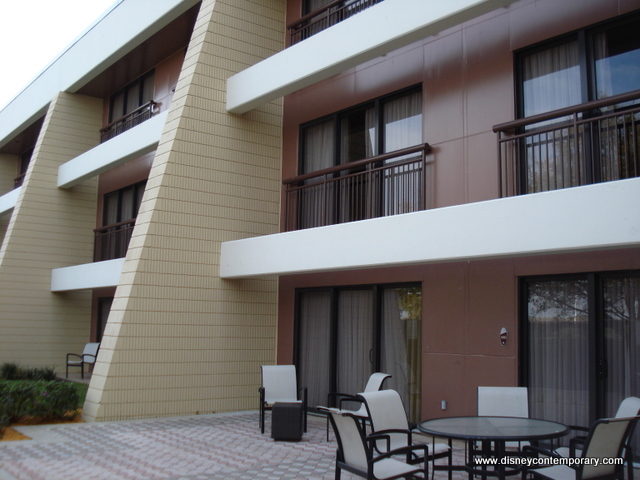 Garden Wing Room
Cost: This is, quite simply, the most important factor in the decision. Garden wing rooms can cost $115 less per night than Tower Bay Lake View rooms, and $155 less per night than Tower Magic Kingdom View rooms. Over a seven-night stay, you're saving over $1,000 — which is probably enough to pay for food, tickets, or both.
Accommodations: The garden wing rooms were renovated along with the tower rooms, which means you get the same exact room in the garden wing that you'd get in the tower. Same luxurious bedding, same groovy glass desk, same marble bathroom — everything. You're not sacrificing on quality here.
Pool Access: While walking to the pool from your tower room can take a while, garden wing rooms open right onto the main Contemporary Resort pool area and Bay Lake. In fact, your garden wing patio might open practically on the sandy beach of Bay Lake, depending on your location. If you or your family love the pool and spend a large portion of your Disney vacation right there at the hotel, opt for garden wing!
Summary
Both areas of the resort offer wonderful accommodations, beautiful views, and great service. If budget is a huge concern, opt for garden wing. If being close to amenities and seeing the Magic Kingdom from your window are a bigger deal, head over to the tower. Good luck with your decision!
This blog post is part of the DisMarks Disney Blog Carnival! Check out more fantastic Disney websites and articles over at the Carnival.