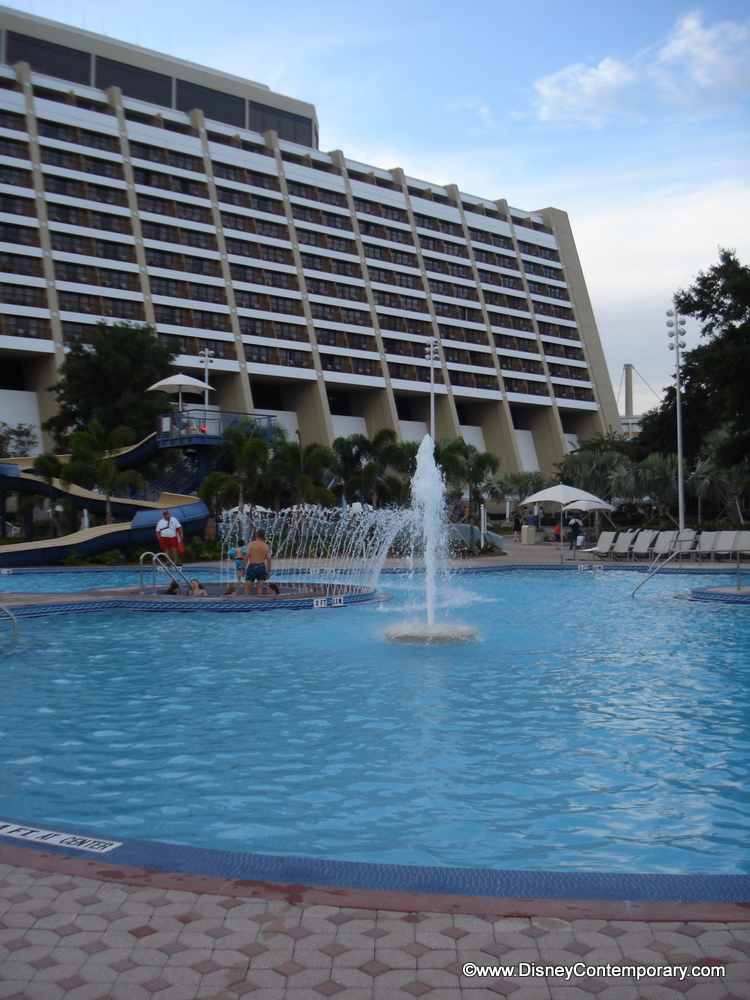 Disney's Contemporary Resort pools don't get their fair share of the spotlight in our opinion. When people talk pools in Disney, they always mention Uzima Springs at Animal Kingdom Lodge or Stormalong Bay at the Yacht and Beach Clubs, which are both great pools, but I haven't found any pool as relaxing and rejuvenating as those at the Contemporary. So I figured it would be fun to do a blog post highlighting these little oases of relaxation!
Note, all of the Contemporary's pools are located on the Bay Lake side of the resort, right on the beach! It's a great location, and offers the best of both worlds — the gorgeous Lake view along with the relaxing pool-side ambiance. Plus, any kiddos get the chance to both play on the beach and in the kids' play areas near the pools!
To see photos of the pools, check out our Contemporary Pools Pictures gallery!
Contemporary Resort Feature Pool
This is the Contemporary Resort's main, freeform pool, located right behind the A-Frame tower of the resort. It was newly renovated in 2009, and now shows off some brand new water fountain features and two hot tubs. The kids play area over here is also brand new, and lots of fun! (I often find myself wishing I was a lot younger and shorter so that I could play, too!). With water cannons, fountains, and a soft play area, it's a blast!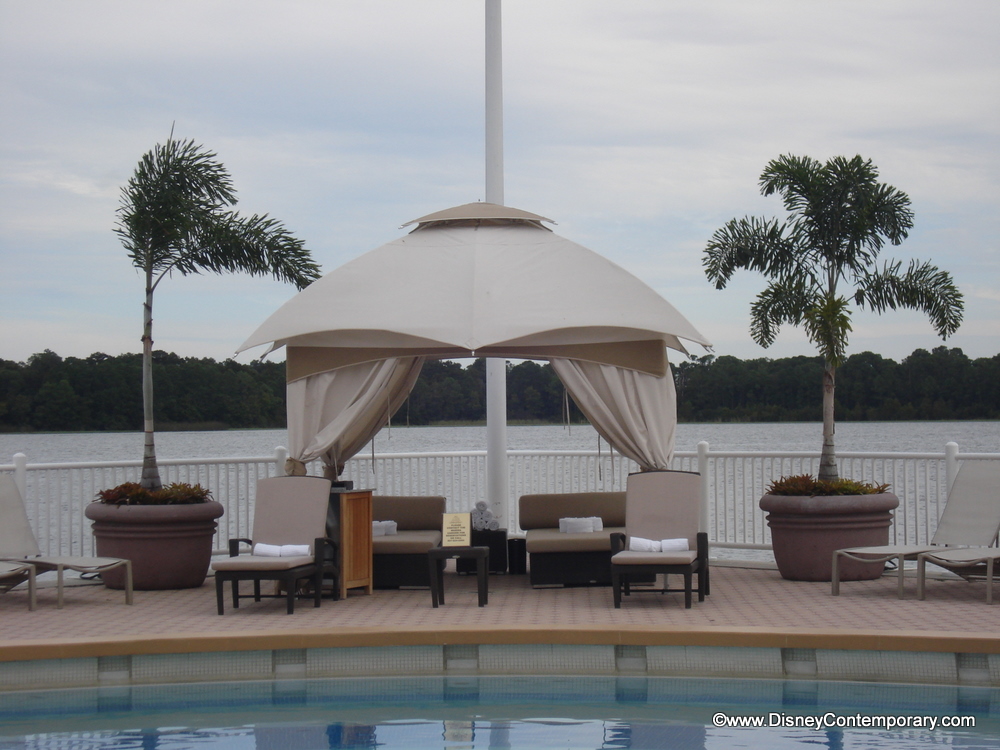 Also, don't forget about this pool's 17-foot slide! I can say I've experienced that — and it was fantastic! Don't bypass it just because you're an adult; you're in Disney World! Have fun!
As for activities, the feature pool offers fun games each day like Giant Jenga competitions and Disney Trivia contests; in the evening, you can sometimes even see the Movie on the Beach from the Feature Pool!
Bay Lake Pool
While many Disney resorts have feature pools and "quiet pools" separated from each other, the Contemporary has smooshed them together. The Bay Lake Pool (also called the "Bullseye" pool, due to its distinctive bullseye floor pattern) sits out on a dock surrounded on three sides by beautiful Bay Lake.
This is the perfect spot to lay back, relax, and gaze out into the gorgeous lake scenery!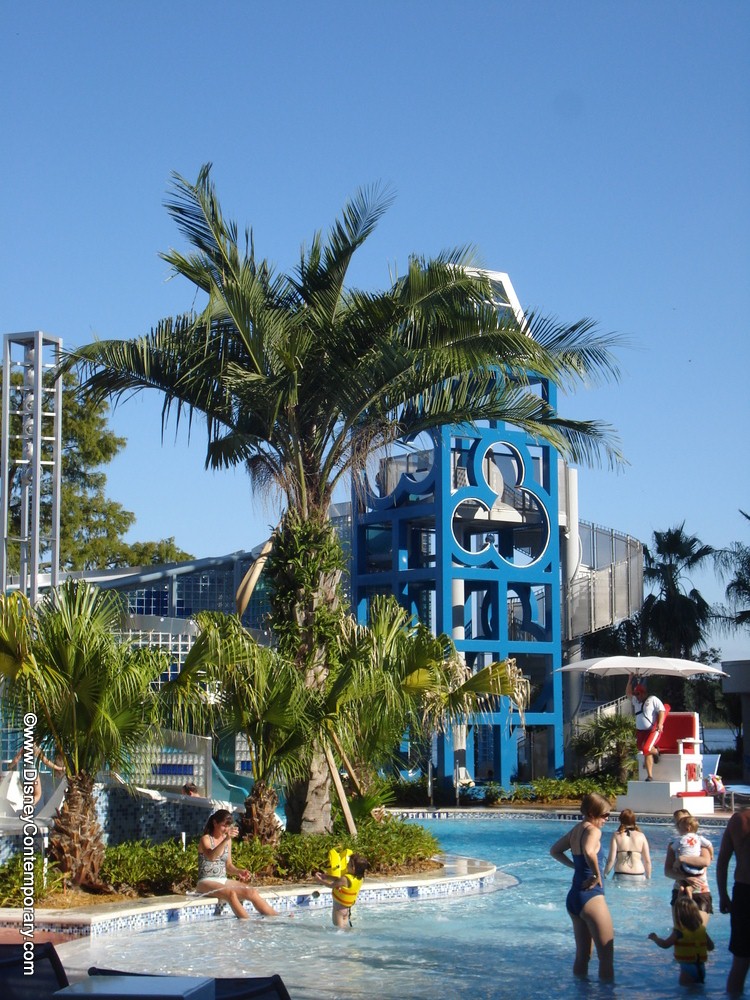 This pool could also be considered the "adults" pool, as this is where the brand new Contemporary cabanas are located. Cabanas can be reserved by resort guests for morning (10am-2pm, $100), afternoon (3pm-7pm, $100), or all day (10am-7pm, $185) sessions. What do you get for that price? Complementary drinks (check your refrigerator!) and fruit basket, lots of luxurious pool-side seating, an IPod docking station with speakers, and a flat-screen TV. Massages (schedule in advance) and private dining can be requested — use the phone in your cabana to call for room service.
Bay Cove Pool
This is the Contemporary Resort's newest pool, and it belongs to Bay Lake Tower, the new Disney Vacation Club Villas building! This pool sports a hot tub, very cook kids' interactive play area, super-Mickey slide, and zero-depth entry.
Unfortunately (or fortunately as the case may be) only Disnney Vacation Club members and guests staying at Bay Lake Tower are able to use this pool (it is key-entry access only).
Pool Bars
The main Contemporary Resort pools — Bay Lake Pool and the Feature Pool — are served by The Sand Bar, a small pool bar offering burgers and grilled items as well as a variety of beers, spirits, mixed drinks, and non-alcoholic items.
The Bay Cove Pool is served by the Cove Bar. Located right next to the pool, this location is for Disney Vacation Club members and guests of Bay Lake Tower only.
Do you love Disney's Contemporary Resort? Join fellow fans over on our facebook page and follow us on our twitter feed @DisneyHotelsFan!
This post is part of the DisMarks Disney Blog Carnival! Check it out for more great Disney-related content and information.