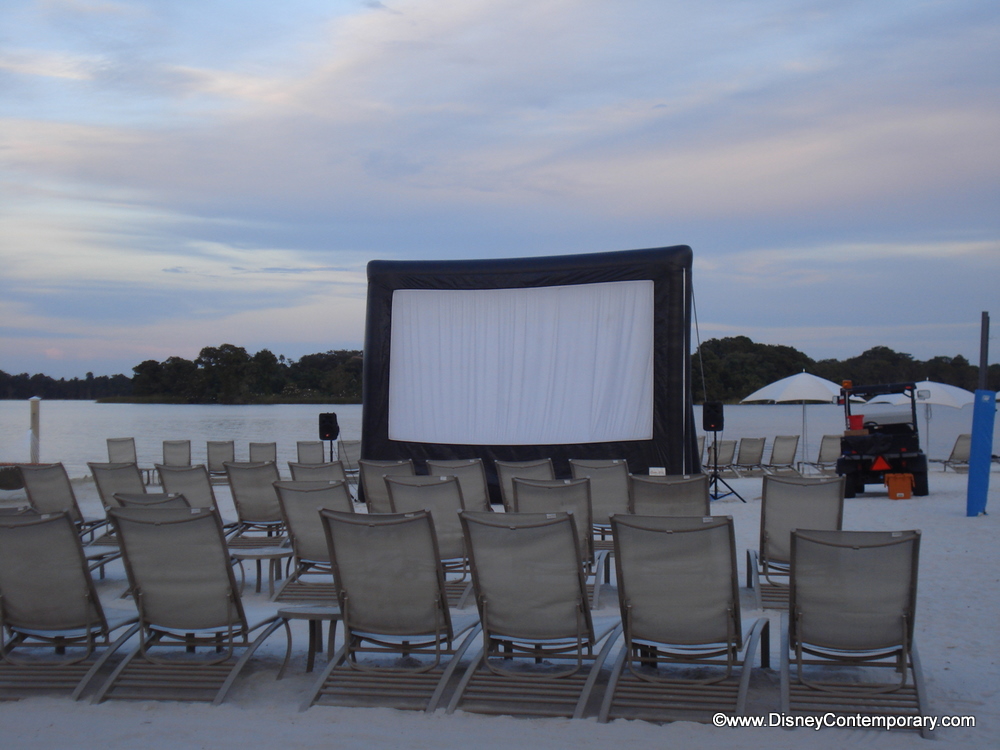 A fun, free activity at the Contemporary Resort is the nightly Movie Under the Stars, which some might also call Movies at the Beach!
The movies are shown on the beach between the Contemporary Tower and Bay Lake Tower on a large projection screen. You seat is a big beach chaise lounger, so be sure to grab some towels.
Be sure to grab an activity sheet at the front desk to get the movie times (usually starting around 7-9 p.m.) and a list of movies playing during your stay. Here's the movies being played at Movies Under the Stars in November 2010:
Sundays: Live Action: National Treasure 2, Invincible, Freaky Friday, Bedtime Stories
Mondays: Family Film: Ratatouille, Finding Nemo, Pocahontas, Bolt, A Muppet Christmas Carol
Tuesdays: Princess Film: The Princess and the Frog, Enchanted, Snow White and the Seven Dwarfs, Sleeping Beauty, Beauty and the Beast
Wednesdays: Adventure Film: The Adventures of Ichabod and Mr. Toad, Alice in Wonderland, G-Force, Up
Thursdays: Disney Animated Classic: Robin Hood, Pinocchio, Lilo & Stitch, Pocahontas
Fridays: Disney Channel Original: Camp Rock, Star Struck, Princess Protection Program, Tinker Bell and the Great Fairy Rescue
Saturdays: Pixar Picture: Monsters, Inc., Cars, WALL-E, Toy Story 3
On some nights, (currently Sunday, Wednesday, Friday and Saturdays), come down to the beach early (currently 6:30-7:15) for the Campfire on the Beach! Bring your own s'mores fixins', or purchase marshmallows and s'mores kits at the beach (about $5) to roast your own in front of the campfire. Yum!
Do you love Disney's Contemporary Resort? Join fellow fans over on our facebook page and follow us on our twitter feed @DisneyHotelsFan!