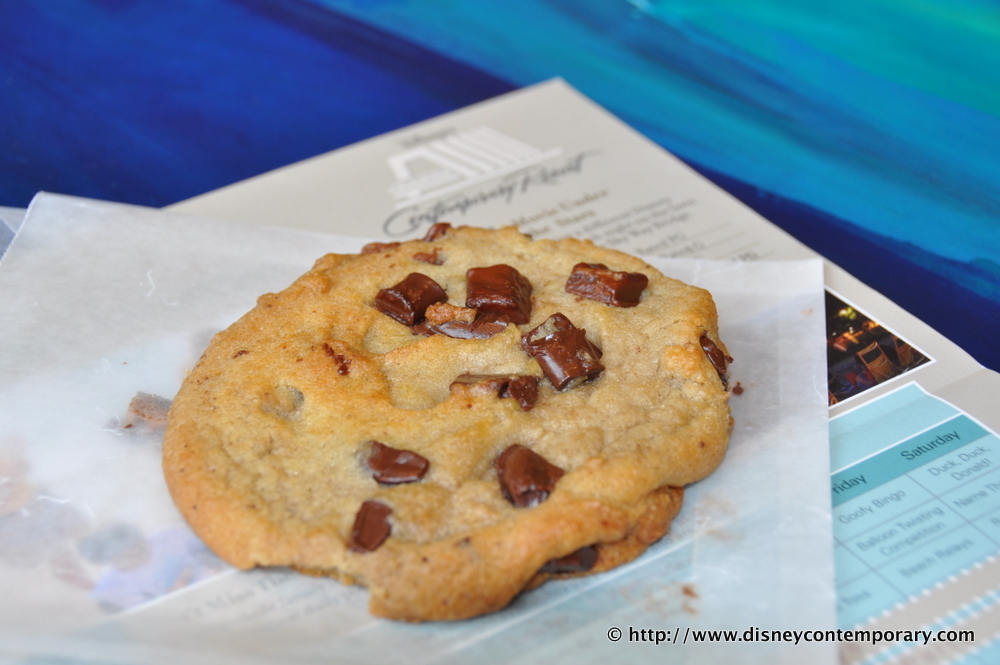 In a happy twist of fate I found myself relaxing in the lobby of Disney's Contemporary Resort last month. Never one to pass up the offer of a cup of coffee, my traveling companion and I headed to the Contemporary Grounds for a snack and a cup o' joe. Th coffee was a surprisingly good Columbian blend from a small batch roaster, any coffee snob would be happy with a cup of java from the out of the way counter sitting on the first floor of the Contemporary's Main Tower. This is the perfect stop for travelers attending a convention to pick up a gourmet brew before a day of conferences. However what really stuck out in my mind, what I'm still thinking about a month later – is the warm and gooey chocolate chunk cookie.
Sitting on an unassuming shelf in the Contemporary Ground's pastry case, may very well be the best chocolate chunk cookie on the planet. The softly textured crumb of the cookie was a delicious accent rich bittersweet chocolate chunks that seemed to pack every inch possible. Breaking the cookie in have the melty chocolate oozed through the gap of space I had just created and made me smile. This large treat is big enough to share, yet not so large that it can't be easily devoured by one. The flavor is not overly sweet, and is dominated by the gooey chocolate, yet the crumb holds it's own offering a serious cookie flavor.
Next time you're looking to take a coffee break at the Contemporary, why not stop in and give it a try?