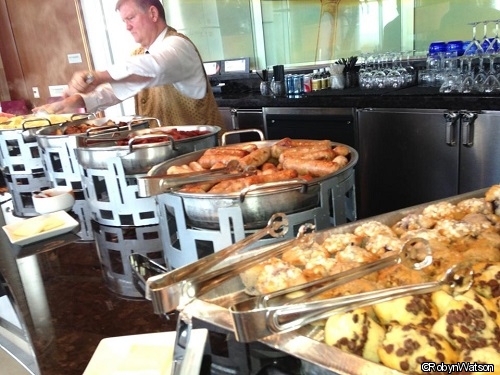 On our most recent trip we made the "mistake" of going to view the model rooms of the newest addition to the Disney Vacation Club fleet, the Grand Floridian villas. Of course, once you have seen the rooms it's very hard to say no to more points. And so of course we didn't.
We bought points a few days later after working some numbers. Once we had made the decision to buy, we met with our guide who talked us through everything and helped set up the purchase.
At the end of our meeting we were invited to something he called a 'Welcome Home Breakfast' over at BLT, and what could make that even better? It was FREE! He arranged a day and time with us to go over and gave us an invite.
Being new Disney Vacation Club members, I didn't know anything about the "Welcome Home" breakfast, so I wanted to share some info that might be useful to a few other people.
When the day came we headed over to Bay Lake Tower. We were met downstairs in the lobby by a DVC representative and taken up in the lift and all the way to the door of the lounge. There weren't many people in there so we expected it to get busier however there was only 1 group who entered after us. We were told to help ourselves to the buffet which we did.
There were plenty of choices to eat; hot food, cold food, pastries, fresh fruit plus coffee tea and fruit juice.
A few representatives popped over to say hello and make sure we knew how to use our points, they offered to check availability for us for any upcoming stays but we were too far out for that one sadly. Once we were finished they played a short film about Disney and the up and coming TV shows to look out for. Not really sure what was the point of the film but it wasn't any sort of sale. We were told to take our time eating and to take some pictures outside as it's not often that the lounge is open in the daytime, making it a unique photo opportunity.
We then headed back downstairs to hop over to Magic Kingdom for the day, full and happy and ready to start the day!
We weren't sure what to expect of the breakfast, surely it wasn't going to be a sales talk as we had already bought? But all it seemed to be was a bit of a thank you for buying.
Have you ever been invited to a "Welcome Home" breakfast as a DVC member? Leave us a comment and let us know!
We'd like to extend a huge thanks to our friend and fan Robyn W. for this great blog post!