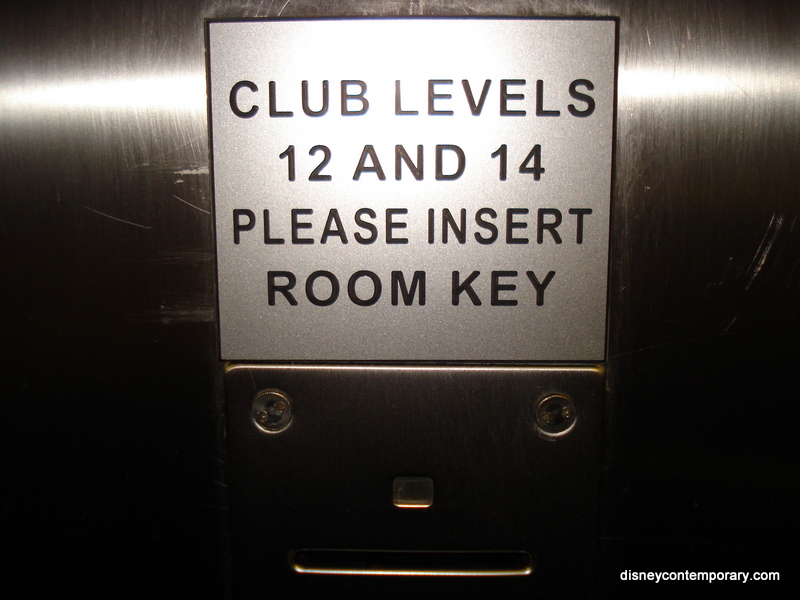 Unlike other Disney Deluxe hotels, the Contemporary has two floors of Concierge-level rooms; both floors are located in the Tower section of the Contemporary (i.e., the main A-frame building). The 12th floor is the "Atrium Club Concierge," and floor 14 has "Tower Club Concierge."
What makes the two floors different?
In terms of amenities, the two floors are exactly the same. Guests on both floors have identical access to concierge services prior to and during their stay. They all have complete access to concierge lounges and complimentary food items, and turndown service.
The basic difference between the two is that only standard rooms can be found on the 12th floor. These are exactly the same as the standard rooms on lower floors, but have larger balconies and access to the concierge services and amenities. Floor 14, Tower Club Concierge, has both standard rooms and all Tower Suites.
What are the views and costs?
You can get Concierge rooms with either a Magic Kingdom or a Bay Lake view. Plan on spending about $100-$200 more per night on your Club level room versus what you'd pay for a regular standard Tower room. This number fluctuates based on "season" (Disney makes you pay more when there's more demand for hotel rooms), view, and level (Tower Club is slightly more expensive than Atrium Club as it's on a higher floor). Also, if you're choosing a Club Level suite, the costs will go up substantially (e.g. a Tower Club room with a Magic Kingdom view will cost you $655 per night during regular season; a 2-bedroom suite with the same view will cost $2,025 per night).