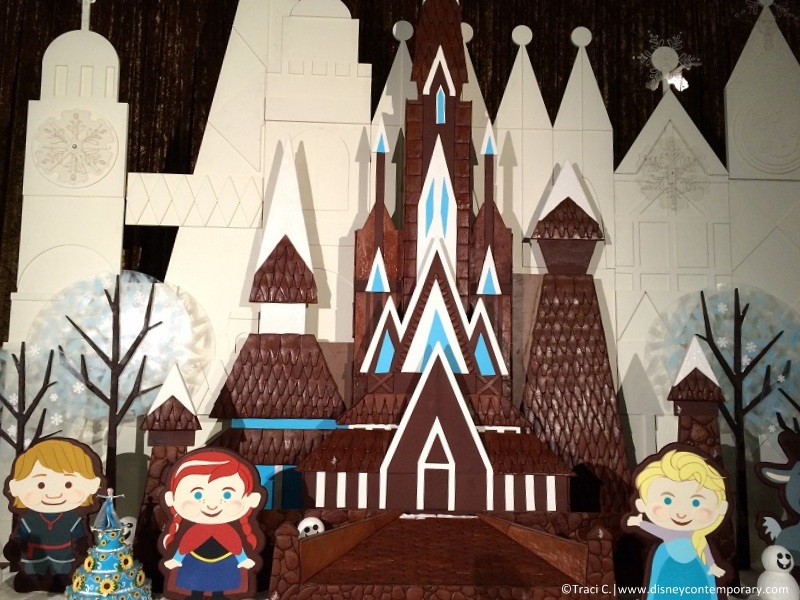 The holidays are officially underway at the Walt Disney World Resort and that means the annual gingerbread display is up at the Contemporary!
This year's display is the same 'Frozen' display that was used last year, completed with Mary Blair-inspired figures of Anna, Elsa, Sven, Kristoff, and Olaf. The display resembles a Norwegian Stave Church (you can see another version of a Stave Church at the Norway pavilion in Epcot).
The gingerbread display is located on the Grand Canyon Concourse right across from the Fantasia gift shop.
Right next to the gingerbread display is a little shop where guests can purchase holiday treats including gingerbread shingles, Blue Raspberry Cake Gelato, cookies, and more. Many of the items feature a Frozen theme.
This year's gingerbread display was created with 311 pounds of honey, 514 pounds of flour, 273eggs, 67 pounds of spices, 35 pounds of sugar syrup, 222 pounds of icing, 423 pounds of chocolate, and more than 1,500 gingerbread shingles. Guests can also search for 15 hidden Olafs!
Do you have plans to stop by the Contemporary and check out this year's gingerbread display? Let us know in the comments.
Do you love Disney's Contemporary Resort? Subscribe to the monthly Disney Hotels Fan newsletter! Join fellow fans over on our Facebook page and follow us on our Twitter feed -->